How To Arrive At The Right Argumentative Essay Format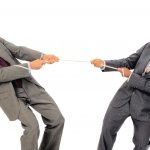 An argumentative essay format utilizes the system of organized words to arrive at a logical conclusion in favour of the writer's viewpoint. It is important that students understand how the format has to be applied. The logic applied has to be consistent and persuasive to enable readers to agree to a point of view. A format allows students to develop the content based on evidentiary support. It allows a logical build-up of content that presents a strong case in favour of the essay statement. Once a format is arrived at, students would find that it saves a lot of their precious time which could be utilized for other assignments. Content can be entered into a formatted template or outline as rough data and then worked upon. Let us look at some argumentative essay prompts that can help you arrive at the right essays.
Understanding and using language skills is imperative for success. While gathering content, you should be able to condense the material and then enter it into the format you have prepared. In this case, the format would have rough data, which has to be polished by you with the use of correct grammar and sentence structure. The ideas you have in place have to be connected with the research data. This is not as difficult as it seems. Gather as many essay examples you can find on different topics and learn to prepare a format as per the one which appeals to you the most. Once you have a rough format in place, all corresponding assignments can be fitted into it. Not only does this save time, it prepares you for all future assignments and improves your mastery over the language. Practice on developing vocabulary and apply them to practice assignments.
Follow the standard methods of formatting an essay. An argumentative essay format would have an introduction. The essay statement would appear right at the start and would make a bold and informative declaration of what is to follow in the essay. The argument you set for the essay is indicated to readers and sets the tone of the essay. Readers have a preview of the point of view to be established without the research backing it. The statement itself should be compelling enough to them to continue reading the essay. Writing the essay statement is therefore one of the most important assignments. Students need to seek out avenues that would enable them to write impressive opening statements. One such avenue is to refer to books that deal with copywriting techniques. These techniques are used by professional marketers to sell products. Using a similar style would enable students to develop the right attitude and mood for any essay.
Try and develop arguments that are concussive in nature. It allows room for argument and can be counter balanced by strong evidentiary support material. This allows students to build up the essay with strong and bold statements throughout. Each point that is included in the body of the essay helps in providing a stronger case for writers to put across their point of view. Argumentative essay formats can be easily formed by using this method.